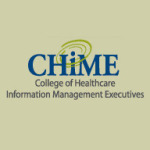 In a letter to Dr. David Blumenthal, the College of Healthcare Information Executives (CHIME), an organization which represents1,400 healthcare chief information officers, offered some criticism of ONC's recent notice of proposed rulemaking (NPRM) regarding the EHR certification program. While CHIME expressed general support for a two-stage approach for creating the certifying bodies, the CIO's are worried about any destabilizing effects such rule may have on the health IT market. Via Healthcare IT News:
We are very concerned that the introduction of a two-stage approach for certification will prolong the current instability in the health IT marketplace, which exists because of the un-finalized status of meaningful use and certification regulations," CHIME wrote. "The introduction of two separate certification schemes – one temporary and one permanent – carries a risk of continuing the uncertainty and promoting needless product replacement in the marketplace.

CHIME issued a few recommendations to combat such uncertainty, which you can find after the jump.
CHIME called for:
Temporary process to be a provisional or interim one that builds on current certification strategies and is "harmonized" with the eventual permanent certification process. According to CHIME, certification process should be the responsibility of the vendor, and that the purpose of certification should be to provide healthcare providers and professionals with assurance that the product they are purchasing can help them achieve meaningful use.
More specificity in language to define what constitutes a self-developed EHR. Current wording in the regulation suggests that any complete EHR or EHR module that's modified by a healthcare provider or a contractor could require certification.
Changes in certification requirements be made only when they are necessary to meet meaningful use evolution or advance interoperability, not just because a certain amount of time has passed.
If CMS maintains the "adoption year" approach originally advanced in proposed regulations, providers should not be required to have products certified for capabilities not required in their current adoption year.
Individual EHR modules be certified to ensure that they can communicate according to adopted standards, and that the interoperability of those modules as used by providers be deemed as certified.
HIT vendors fully disclose functions for which their products are certified and fully disclose known compatibility issues.
In the event of a certification body losing its authority to certify products, vendors should have six months to recertify products, and providers should not be penalized for a change in a product's certified status if they are still able to demonstrate the meaningful use of the technology.
"CHIME raises concerns about EHR certification," Healthcare IT News (April 9, 2010).